Cape Cod Summer on Elbow Pond
Town: Brewster Village: Brewster, MA 02631
Property Type: house View Map
Bedrooms: 3 Sleeps: 7 Baths: 2 Pets: no Smoking: no
Price: $2000
**Magical Waterfront Vacation Home on Sparkling Freshwater Pond.**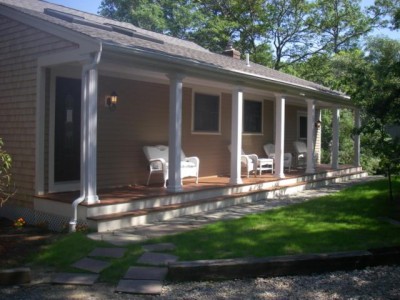 Cape Cod Vacation Tip: Have groceries delivered right to your Cape Cod rental!

The enchantment begins each morning you wake to the sun shimmering over the surface of the water. A million facets like diamonds draw your eye to the water, casting its spell upon you. Enjoy breakfast on the patio joined by the sound of birds in the trees. Everything is provided to make my house your home. Just bring your own fresh linens and towels. 3-bedroom 1 and ½ bath house offers a tranquil setting for a summer vacation.
Complete kitchen plus washer/dryer and dishwasher, has all new appliances. Living room, family room with queen size sofa bed, deck & patio make this an ideal spot for a family summer getaway, and the Soapstone Fireview Woodstove makes the house cozy and warm during
the off season.
Amenities:
Washer/Dryer; dishwasher; dock on property; cable TV; phone
Nearby Activities:
Beach, shopping, restaurants, golf, bike trail
Rental Terms:
One week minimum
Availability:
June 28 - September 27
Availability Calendar: click here
Website: click here
Inquire about this property:
More rentals in Brewster > all Cape Cod vacation rentals

• This property last updated on 08/09/16 in
Brewster
•
link to this rental
•
tell-a-friend
•
---
---
Nearby Vacation Rentals:
---
<<
South Yarmouth Cottage Sleeps 5
---
Read More About Cape Cod:
---