The  Hibiscus House at Lewis Bay
Town: Yarmouth Village: West Yarmouth, MA 02673
Property Type: house View Map
Bedrooms: 2 Sleeps: 4 Baths: 1 Pets: yes Smoking: no
Price: $950-$1800 weekly Off season short stays vary.
A walk to the beach Summer Cottage in West Yarmouth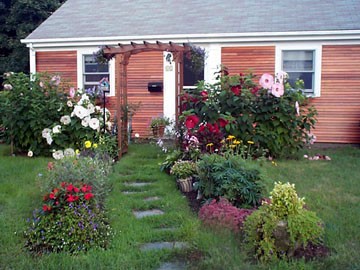 Cape Cod Vacation Tip: Have groceries delivered right to your Cape Cod rental!

Click our website link below for plenty of pictures.
2 BR Pet Friendly, Cute and Clean
Visit our website at CapeCodFunAndSun.com for details of the house.  We are within walking distance of the beach.
Great Back Yard, convenient location.
300 feet from Rte 28, convenient to everything, 4/10ths of a mile from Local Beach.
Amenities:
Cable TV, Fast WiFi Internet, BBQ grille, Washer and Dryer, Fully equipped kitchen, Lobster Pot, Blender, Microwave, Patio Table, Lawn Chairs, Pet friendly.
VCR, DVD, and Stereo, 2 TV's, Outdoor Shower,Fully equipped,
Nearby Activities:
Antique Hunting, Beaches, Bowling, Boat Tours,     Billiards,Birdwatching, Barbecues, Baseball, Biking & Rail Trail, Cape Cod Potato Factor Tour, Cape Cod Chamber Music, Clambakes, Comedy Club,     Coffeehouses, Cape Cod Lavender Farm, Cape Cod Playhouse, Cape Cod Mall, Churches, Dancing, Duck Tours, Ferry's to the Islands, Fishing, Woods Hole Film Festival, Provincetown Film Festival, Fireworks, Gold's Gym, Golf, GoKarts, Jump on Us Trampolines, John F. Kennedy Museum, Kayaking,     Library, Lighthouses, Motorcycle Rentals, Movies,    Melody Tent Music, Museum of Fine Arts, Minature Golf, National Seashore, Nightclubs, Ocean Street Docks, Provincetown (Carnival week in August), Raquetball, Running and Roadraces, Relaxing, Restaurants, Sailing, Scuba, Shopping, Shellfishing, Tennis, Dinner Train Ride, Whalewatching, Walking Trails, Woods Hole Oceanagraphic, Windsurfing, Zooquarium, Yardsales .
Rental Terms:
Full rental terms and conditions are detailed in Our Vacation Rental agreement.
Availability:
Come visit weekly in the Summer, or shorter stays in the off-season.
Off season to us is: Oct, Nov, Dec, Jan Feb, Mar, Apr, and May. 
Availability Calendar: click here
Website: click here
Inquire about this property:
More rentals in Yarmouth > all Cape Cod vacation rentals

• This property last updated on 02/23/22 in
Yarmouth
•
link to this rental
•
tell-a-friend
•
---
---
Nearby Vacation Rentals:
---
<<
South Yarmouth Cottage Sleeps 5
---
Read More About Cape Cod:
---