Wonderful Cape Cod Cottage with Lake View!
Town: Harwich Village: Harwich, MA 02645
Property Type: house Address: 101 John Joseph Road -- View Map
Bedrooms: 3 Sleeps: 7 Baths: 2 Pets: yes Smoking: no
Price: $600 - $1550
A traditional 2 story Cape style home this is the perfect starting place for your Cape Cod adventures. Our family has enjoyed summers on the Cape for over 30 years and I hope you can come and enjoy the same timeless pleasures that are part of Cape life with your friends and family.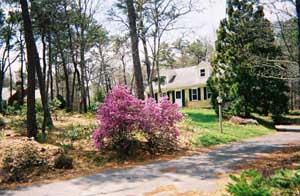 Cape Cod Vacation Tip: Have groceries delivered right to your Cape Cod rental!

In this two story home with lake access, you can enjoy a spacious home "nicely settled in the woods" according to a recent visitor. Have a cup of coffee on the private outdoor deck in the morning, while you plan your day. In June the many prize-winning Rhodendrons blossom, and there are many other flowers including roses and peonys during the rest of the summer. There are woods behind you and you can't see it but there's an 18 hole golf course in back of you! In the front you can see beautiful Joseph's Pond, one of many warm Cape lakes. You can also visit the Ocean, with less than a 10 minute drive! Once you pull into the driveway, you'll know you made the right choice.
"We really enjoyed our time at your cottage. It is a lovely cottage and the location is very good as well. We had a good time exploring parts of the Cape we had not visited before as well as kayaking, paddling (wading?), cycling, etc. If you will have us, we are thinking about coming again next year, Once again, thank you for the use of the cottage. - Best regards, Chris"
"Niceley settled in the woods and cool inside when it is so hot outside" - Marika, New Haven
Amenities:
Full kitchen, including new "flat burner" stove, eat in kitchen, full dining room, porch with outdoor seating, 2 bathrooms, beautiful landscaping, view of lake.
Air Conditioning, Phone, TV, Cable/Dish TV, Refrigerator, Stove, Walk to Beach, Waterview, Fireplace, Deck/Porch, Dishwasher, BBQ, Linens Included.
Nearby Activities:
Cape Cod Bike Trail, access to Josephs Pond across the street, many fresh-water beaches within 5 miles, the Ocean 10 minutes away, Golf, Seaside towns such as Chatham and Welfleet fine dining, family style dining, seafood, sailing, hiking, tennis.
Rental Terms:
Deposit is 1/2 total rental, rest is due 30 days before your arrival. Linens available.
Availability:
See availability calendar link below.
Availability Calendar: click here
Inquire about this property:
More rentals in Harwich > all Cape Cod vacation rentals

• This property last updated on 12/26/06 in
Harwich
•
link to this rental
•
tell-a-friend
•
---
---
Nearby Vacation Rentals:
---
<<
Mid Cape Vacation Getaway!
|
4 Bedroom Eastham Rental Sleeps 8
>>
---
Read More About Cape Cod:
---