Walk to Bucks Pond
Town: Harwich Village: East Harwich, MA 02645
Property Type: house View Map
Bedrooms: 2 Sleeps: 6 Baths: 2 Pets: yes Smoking: no
Price: $1275 - $1300
This 2 bed/2 bath house is great for vacationers looking to enjoy pond activities.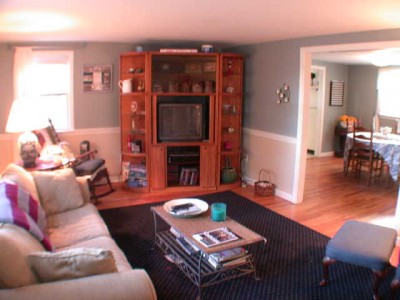 Cape Cod Vacation Tip: Have groceries delivered right to your Cape Cod rental!

Great location! A short walk to three (3) beaches on Bucks pond. With hardwood floors and sports memorabilia throughout, this 2 bed/2 bath house works well for vacationers looking to enjoy pond activities. The living area has cable TV/DVD. The kitchen appliances have been updated in 2009. The property now has new dishwasher, stove and refrigerator. The Master bedroom has a Queen bed with TV/VCR, while the second bedroom has twin bunks and a full bed. There is a washer/dryer in the basement and a charcoal grill in the yard. Those with pet allergies should note that the owner has a dog. Renters with a small dogs MAY be considered on a case by case basis for an additional fee. If you need additional units we also rent nearby (HA0217). No smoking. Travel Insurance is available upon request. This property welcomes payment by personal check or Visa/Mastercard. Bed linens and towels are NOT provided.
Amenities:
View:  Pond
Full Kitchen:  Yes
Dishwasher:  Yes
Floor Fan:  BRs / LR
Washer/Dryer:  Yes
Microwave:  Yes
Iron & Board:  Yes
Cable TV:  Yes
Coffee Maker:  Yes
Toaster/Toaster Oven:  Yes
Parking:  Drive way
Patio Furniture:  4Chairs/Table
BBQ Grill: Charcoal
Outdoor Shower
TV's:  2 (LR&MB;)
VCR's:  1(MB)
DVD's:  1(LR)
Nearby Activities:
Close to retail stores and restaurants
Rental Terms:
After making a reservation a lease agreement will be emailed or mailed to you, which is due within 7 days after your reservation is made.
Rental units are cleaned before and after your stay.
Renter agrees to maintain the cleanliness of the Rental Property (both inside and outside) during the occupancy and to leave the Rental Property thoroughly clean and in good condition upon departure. A $100 cleaning deposit is required which can be made either way by:
- Credit Card Authorization (Your credit card won't be charged. We will only put a $100 hold on it)
- Check (We will deposit the check upon receipt)
We are sorry, but we do not provide towels for any of our rental units.
In the event of cancellation, a refund minus a service fee of 25% of the total rent rate will be made if and only if rental property is re-rented.
Check-in is between 3:00pm and 5:00pm on the date of your arrival (No earlier than 3:00pm, since rental units need to be cleaned and inspected)
Check-out is 10:00am on the date of departure (No later than 10:00am, since Rental Properties need to be cleaned and inspected). Upon check-out Renter will be offered a chance to reserve the same property during the same week next year.
Please note this is a dog friendly property. Renter is required to provide weight and type of breed. Owner reserves right to decline rental based on information provided. Renter agrees to be fully responsible for any harm or damage caused by their pet(s) while residing in the rental property. Accidental Rental Damage Insurance (ARDI) is mandatory along with $350 deposit (check) for issues not covered under ARDI (i.e. waste removal from the yard) or for damage costs exceeding the ARDI. If renter fails to properly clean up after pet, cost of removal/cleaning will be charged against the $350 security deposit.
Availability:
Rents weekly from June 5th through September 25th.
Availability Calendar: click here
Website: click here
Inquire about this property:
More rentals in Harwich > all Cape Cod vacation rentals

• This property last updated on 04/29/10 in
Harwich
•
link to this rental
•
tell-a-friend
•
---
---
Nearby Vacation Rentals:
---
<<
South Yarmouth Cottage Sleeps 5
---
Read More About Cape Cod:
---