Yarmouth Resort ~ Unique Family CONDO Suite ~ Free WiFi~ Indoor Pool~ Great Rates~ View Video
Town: Yarmouth Village: West Yarmouth, MA 02673
Property Type: condominium Address: 343 rt 28 -- View Map
Bedrooms: 1 Sleeps: 6 Baths: 2 Pets: no Smoking: no
Price: $89 - $239 per night, plus taxes
We have purchased two connecting hotel rooms resulting in a unique Cape Cod condo!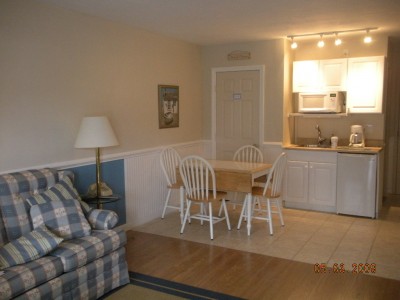 Cape Cod Vacation Tip: Have groceries delivered right to your Cape Cod rental!

YARMOUTH RESORT HOTEL
Enjoy a weekend, or an entire week at our unique "condo" at the Yarmouth Resort in West Yarmouth.
We purchased two connecting hotel rooms at the Yarmouth Resort. During the first winter, we completely renovated one of the rooms converting it from a hotel bedroom to a Cape Cod kitchenette/ living room. This past winter we updated the bedroom side. We purchased new Queen mattresses, replaced the wallpaper with paint, replaced the headboards, replaced the old TV with a new flatscreen, professionally cleaned the carpet, as well as other "little" touches. So now, our connecting hotel rooms is a nice two room condo suite!
The bedroom has a flat screen TV, two QUEEN beds, a twin pull-out sofa, desk, bureau, and iron.
The second room has a queen sleep sofa, flat screen TV, kitchen table & chairs, microwave, coffee maker, sink, cups, plates & utensils.
Each room has a full bathroom with a tub and shower as well as hair dryers. Each room also has a 3' tall refrigerator.
We are offering both rooms together.
The 2011 rates vary from $89 (off season) to $239 (4th of July weekend). Contact me and I will let you know the rates for your vacation time.

Since it is a hotel, taxes will be added to these prices. I can set the prices, but the transactions must go through the front desk. You must abide by the hotel check-in and check-out policies.
Also since it is a hotel, you get all the hotel services! You will have daily housekeeping as well as fresh towels! Now that's a vacation!
NO SMOKING ~ NO PETS
Here are some other photos http://www.youtube.com/watch?v=3mtxJPlFQ9k
Amenities:
Since our condo is in the hotel we have full use of all the hotel amenities:
• Indoor heated pool
• Hot tub
• Sauna
• Fitness room
• Outdoor pool
• Cable TV
• Free WiFi
Nearby Activities:
The property is right on route 28 and close to:
• Beaches (Colonial Acres .61 mi)
• Ferries (2 mi)
•    Cape Cod Melody Tent (3 mi)
• Hyannis
• Cape Cod Mall
• Miniature golf (Many in the area)
• Shopping
• Christmas Tree Shops
• Fine and casual dining
• Dunkin Donuts (of course!)
Rental Terms:
After you contact me, the property owner, you will reserve through the hotel desk. Since it is a running hotel, you will be subjected to hotel taxes as well as check-in and check-out times.
No smoking and no pets.
Availability:
Available year round except January 2rd to February school vacation week.
Availability Calendar: click here
Website: click here
Inquire about this property:
More rentals in Yarmouth > all Cape Cod vacation rentals

• This property last updated on 06/11/11 in
Yarmouth
•
link to this rental
•
tell-a-friend
•
---
---
Nearby Vacation Rentals:
---
<<
South Yarmouth Cottage Sleeps 5
---
Read More About Cape Cod:
---