CapeLinks Cape Cod: Beaches
Cape Cod is home to hundreds of saltwater and freshwater beaches
want to write something about Cape Cod Beaches?
post it here
Cape Cod's 559.6 miles of coastline
offers many beautiful sandy beaches
for you to enjoy. Beaches on the Cape Cod Bay north side may have cooler water temperatures, less seaweed and much larger low tide water flats than the warmer waters of the south facing beaches of Nantucket Sound. The Outer Cape National Seashore beaches facing the Atlantic Ocean usually have heavier surf.
We Cape Codders take pride in our beaches and ask that you do too! Please follow these simple recommendations for beach-going:
Carry it in/carry it out.
No diapers in the water or buried in the sand.
Use established footpaths especially through dune grass areas (this will also keep you out of the poison ivy and ticks).
Protect the beach vegetation, it absorbs nutrients and filters pollutants.
Keep pets leashed (where allowed) and use a pooper scooper.
Don't feed the birds, seals or sharks.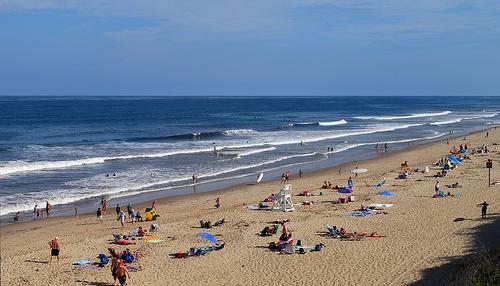 photo by
Paul Keleher
Cape Cod tests all public bathing beach waters. Monitoring results from previous seasons indicate exceptional water quality on Cape Cod, and the National Seashore beaches are part of the Blue Wave Campaign for quality. However, test results may require the posting of a no-swimming caution for a day or two, especially after a heavy rainfall. For more information on water quality assurance and actual beach test results, please visit the Barnstable County Department of Health's beach sampling map.
---
articles & blogs: beaches
Page 1 of 1 pages

Page 1 of 1 pages
got something to add?
post an article or blog