Armed & Dangerous Fishing Tournament

Fish from shore or from a boat and support a great cause. The Armed & Dangerous Fishing Tournament is being held on June 8th 2006 to support a good friend of mine I've known since elementary school.
The tournament proceeds will go towards the purchase of a new prosthetic arm for David Ednie. There will be a party at Trader Ed's at the Hyannis Marina on the 8th of June with the fish weigh in from 1 pm to 4 pm on that same day. The party starts at 4 pm and will be MC'd by NECN's Tim Kelley.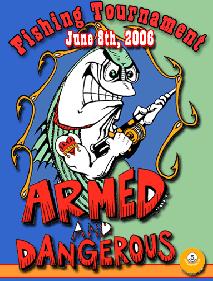 The entry fee is $75.00 and includes a tournament t-shirt and dinner at Trader Ed's. There will also be an auction the night of the event. To sign up for the tournament, make a cash donation or to donate goods or services for the auction please visit the tournament website at www.aanddfishing.com.
If you don't like to fish, but like to have a good time, come join the party at Trader Ed's on June 8th at 4 pm. For $25.00 you get dinner and a chance to bid at the auction.
If you have a place where you can post a flyer, please print one out and display it prominently.
Click Here for More Information...
• tell-a-friend • link to this post •
Comments:
No comments yet.
---
Related Posts:
are tagged with fishing
---
<<
Where They Sleep!
|
Cape Cod Borgia
>>
---
---
Read More About Cape Cod
---