The Island Merchant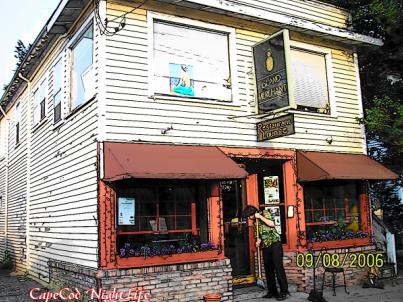 Located on Main Street in Hyannis is this small yet quaint bar/lounge. You would never know by looking at the outside of this place of what lies inside. The inside ambiance is very unique. The tables in the lounge or the seats at the bar offer a peaceful getaway from the ordinary.
The menu consists of freshly prepared cuisine and beverages with a taste of the islands. Just one look at the menu will bring you into a comfortable state of mind that will lead to ultimate satisfaction.
For entertainment, The Island Merchant has the very best a little place like this could offer. With live entertainment seven days a week, you'll be guaranteed a good time no matter what night it is. The live bands that play here really know how to bring in a crowd.
Out for a casual night on the town and looking to try something different? Then check out The Island Merchant right on popular Main Street.
Click Here for More Information...
• tell-a-friend • link to this post •
Map
- (click marker for driving directions)
view large maps:
aerial
,
birdseye
,
street
,
satellite
,
hybrid
,
topo & aerial
|
view all mapped places
Comments:
---
Related Posts:
are tagged with nightlife, food, entertainment, bar, pub, restaurant, hyannis
---
<<
Brewster, The Sea Town
|
$70,000 From 50 Cent For Summer Stars Camp
>>
---
---
Read More About Cape Cod
---