Highland Light

Cape Cod, or Highland Light at Truro, can be seen on a starry night forty-five miles out to sea. It towers eighty feet above a cliff which is one hundred and forty feet high. This cliff, precipitous and deeply gullied, is called the Clay Pounds.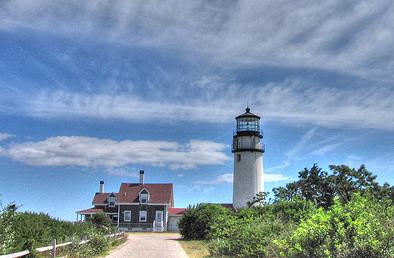 photo by iessi
It is made of andent pre-glacial clay and projects six hundred feet into the ocean. From the Clay Pounds directly across the ocean, three thousand miles away is Pontevedra, Spain. The very first beacon picked up by Boston-bound ships from Europe is that of the four million, five hundred thousand candle power Highland Light.
Highland Light, originally constructed of wood, was first lit in 1797. Originally fitted with 15 reflector lamps, a fresnel lens was installed in 1857.
In 1797 Highland Light stood 510 feet from the edge of the Truro Bluffs. One hundred years later, that distance had shrunk to about 300 feet, and today, Cape Cod Light is less than 125 feet from destruction. Over 40 feet were lost to one winter storm in 1990. The severity of the cliff erosion has forced a plan to move the lighthouse. The light was successfully moved during the summer of 1996.—source
• tell-a-friend • link to this post •
Map
- (click marker for driving directions)
view large maps:
aerial
,
birdseye
,
street
,
satellite
,
hybrid
,
topo & aerial
|
view all mapped places
Comments:
No comments yet.
---
Related Posts:
are tagged with maritime, truro, lighthouse, Highland Light
---
<<
Moon Over Cape Cod
|
Where They Sleep!
>>
---
---
Read More About Cape Cod
---