Pave Paws Radar Station at Otis AFB

The radar, developed by Raytheon, is used primarily to detect and track sea-launched (SLBM) and intercontinental ballistic missiles (ICBMs). PAVE PAWS radars are located at Cape Cod Air Force Station, Massachusetts, Beale AFB, California, and Clear Air Force Station, Alaska. PAVE is an Air Force program name, while PAWS stands for Phased Array Warning System.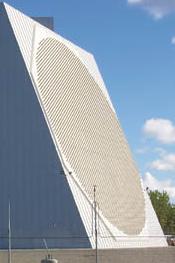 The system also has a secondary mission of Earth-orbiting satellite detection and tracking. Information received from the PAVE PAWS radar systems pertaining to SLBM/ICBM and satellite detection is forwarded to the U.S. Strategic Command's Missile Correlation (formerly Missile Warning) and Space Control Centers at Cheyenne Mountain Air Station, Colorado. Data is also sent to the National Military Command Center and to U.S. Strategic Command's Command Center at Offutt AFB, Nebraska.
The installation occupies approximately 100 acres of land on Flat Rock Hill in the northeastern portion of the Massachusetts Military Reservation (MMR) on upper Cape Cod. The installation at Cape Cod AFS was the first of its type to be built and operated. The installation was completed in 1978 and activated as the 6th Missile Warning Squadron on October 1, 1979. On May 1, 1983, the unit was transferred to the 21st Space Wing of Air Force Space Command as the 6 SWS.
Pre 9/11, we used to go deer hunting all over the base and I have been within a couple hundred yards of the PAVE PAWS site. That thing is huge! The picture does not do it justice. I remember that day really well because it was really cold. Although my hands and feet were freezing, I felt really warm inside for some strange reason. Zoomed in satellite view may be distorted for National Security reasons. ???
• tell-a-friend • link to this post •
Map
- (click marker for driving directions)
view large maps:
aerial
,
birdseye
,
street
,
satellite
,
hybrid
,
topo & aerial
|
view all mapped places
Comments:
---
Related Posts:
are tagged with radar, air force, military, otis, places
---
|
Coastal Waters & Offshore Marine Forecasts
>>
---
---
Read More About Cape Cod
---