The Sea Serpent

"Professor" George Washington Ready of Provincetown hid behind a sand dune and watched the monstrous creature rise out of the surf. It shot up geysers of spray, fifty feet high!
It was 300 feet long, more or less! Had a head as big as a 200-gallon cask! Six eyes, "as large as good-sized dinner plates," that rose from the body and oscillated forward and aft and to port and starboard!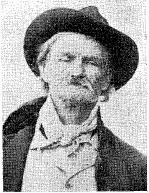 The body was 12 feet in diameter and scales the size of a barrel head that "alternately turned green, red and blue" ! A mouth that disclosed four great rows of teeth and a tusk that extended from the nose "at least eight feet"! Three of the eyes were red, three green and "A strong sulphurous odor accompanied him, and intense heat was emitted, so much that the bushes and grasses over which he moved have the appearance of being scorched with fire"!
The terrible thing moved on to Pasture Pond. "As the tail disappeared, the water commenced to recede from the shore till the pond was left completely dry, with a large hole in the center some 20 feet in diameter, perfectly circular, down which sounding leads have been lowered 250 fathoms and no bottom found"!
It was in 1886, when Professor Ready functioned as the Town Crier of Provincetown. His harrowing experience was published in newspapers throughout the nation. An affidavit was appended, with Professor Ready's own signature.
• tell-a-friend • link to this post •
Comments:
---
Related Posts:
are tagged with interesting, legends, provincetown, weird
---
<<
Cape Cod Ghost Stories
|
The Front Door was for the Minister
>>
---
---
Read More About Cape Cod
---